Get to know everyone who works at Knoxville Dental Center. Our team is made up of amazing individuals who want to make you feel your best.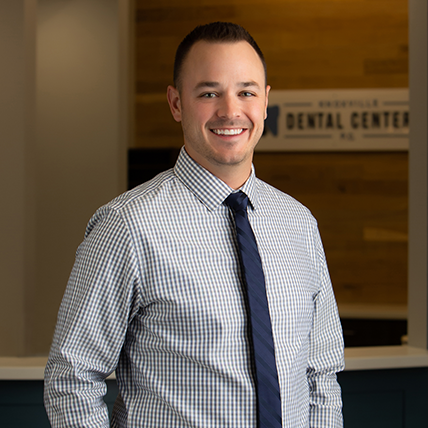 DR. ANDREW SECORY
Dr. Andrew Secory is from Clear Lake, IA. He received his Bachelor of Arts degree in Biology from Wartburg College. He then went on to the University of Iowa College of Dentistry and received his Doctor of Dental Surgery degree. Dr. Secory is a member of the American Dental Association, the Iowa Dental Association, and the Des Moines District Dental Society. As a dentist, Dr. Secory enjoys getting to know each and every one of his patients and strives to give his patients the best experience possible. He is active in the Knoxville community as a member of the Knoxville Chamber of Commerce and Celebrate Church.
Outside of the office, Dr. Secory and his wife, Sarah, enjoy spending time with their two children (Ada and Benny) and dog (Hank), as well as other family and friends. They are passionate Iowa Hawkeye fans and love attending games in Iowa City. In his free time, Dr. Secory likes to be on the golf course or doing something outdoors.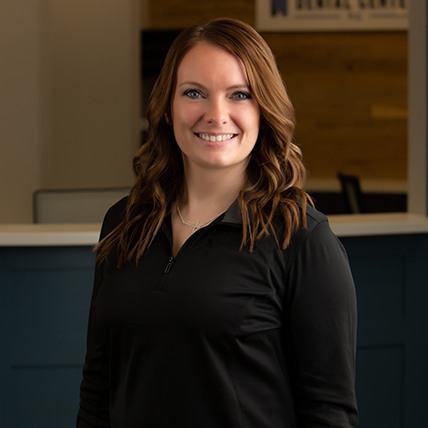 CHELSEA
Chelsea is our lead front office coordinator, a Knoxville native, and a graduate of KHS class of 2011. Chelsea continued her education and obtained her Bachelor of Science degree in Business Management. As our lead front office coordinator, she enjoys overseeing the daily office operations and administrative duties in the office. She is passionate to help every patient become comfortable with our team, the amazing dental work we provide, and providing a welcoming environment for our patients.
Chelsea resides in Knoxville with her boyfriend, Dustin, and daughters, Payton & Brynlee. Outside of work Chelsea enjoys watching her daughters' sport events, coaching our local swim team, attending sprint car races, cheering on the Iowa Hawkeyes and KC Chiefs, and spending quality time with her family and friends. LUANN
Luann is our front desk receptionist and a native of Knoxville. She loves helping our patients feel at home as soon as they walk in the door and seeing a happy, smiling patient check out upon completion of their treatment.
Luann resides in Knoxville with her husband, Jim. Outside of the office she enjoys camping, gardening, reading, traveling, and spending time with her family and friends.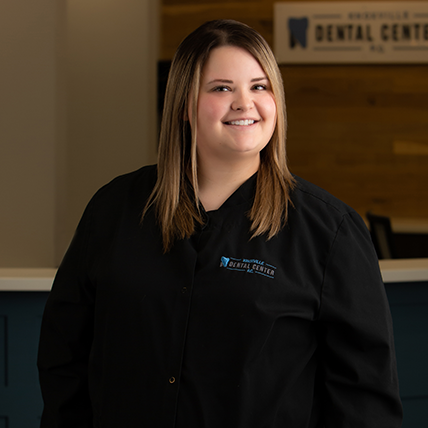 REBECCA
Rebecca is our office clinical lead and a native of Knoxville graduating KHS in 2011. She then went on to Indian Hills Community College where she obtained her Dental Assistant degree and continues to advance and expand her knowledge in the dental field by becoming an Expanded Functions Dental Assistant.
Outside of the office, Rebecca enjoys spending her free time reading and with her husband, Ryan, and their lab, Aspen. AMANDA
Amanda received her dental assisting degree from Indian Hills Community College in 2023 and plans to achieve her expanded functions certificate in the near future. Her favorite part of dentistry is seeing how much a smile can change a person's day around.
Amanda moved from Phoenix, Arizona in 2018 and currently resides in Knoxville with her husband, Alex, and their English Springer Spaniel, Duke. Outside of work, Amanda enjoys traveling and spending time with her family.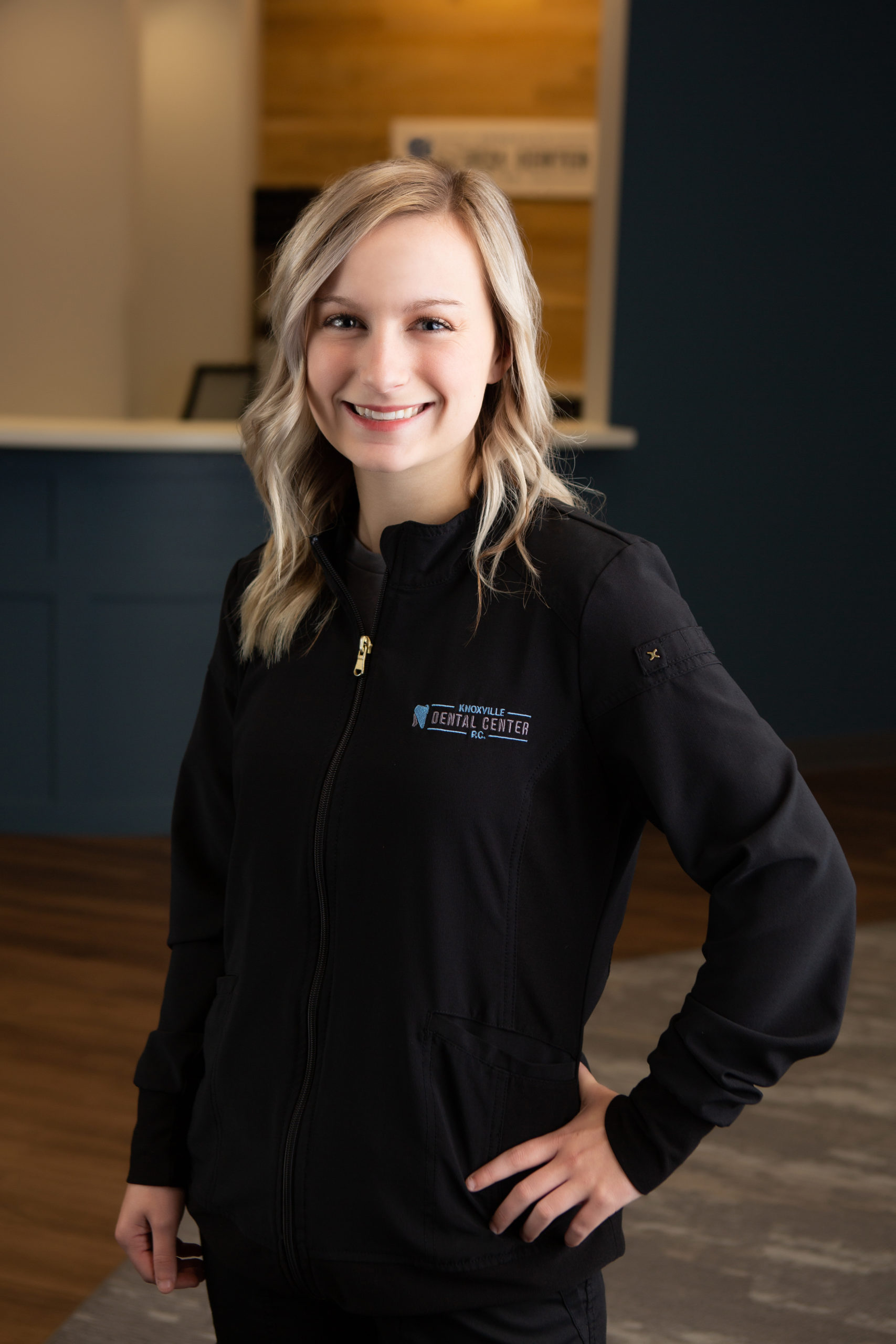 GRACE
Grace is a Knoxville native and a graduate of KHS. She received her dental hygiene degree from Indian Hills Community College in 2021. Grace pursued a career in dental hygiene because she always notices a smile.
Grace lives in Knoxville with her fiancé, Ben, and their lab, Mötley. She also enjoys traveling, boating, sprint car racing, and Cardinals baseball. DANIELLE
Danielle worked as an EFDA-1 dental assistant for 9 years before continuing her education to become a hygienist. She attended Indian Hills Community College, graduating from their Dental Hygiene Program in August 2023. Danielle's favorite part about working in dentistry is making sure people feel safe and comfortable at their dental cleaning. She enjoys educating patients on products that benefit their dental needs, proper hygiene techniques, and being a part of why people feel comfortable with their smiles.
When Danielle is not in the office, she loves spending time with her husband, Ryan, and three kids Braelyn, Bradly and Kyndrick. In their free time, her family enjoys riding their side by side, camping, fishing, riding four wheelers and just doing anything outdoors.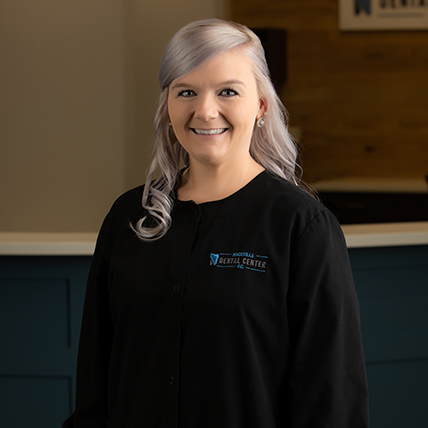 CASSIE
Cassie received her Dental Hygiene degree from DMACC and has been part of our team since 2013. Her favorite part of dental hygiene is helping each patient to feel confident about their smile.
Cassie lives in Pella with her husband, Ben, and sons, Oliver & Elijah. In her free time, she enjoys baking, boating, camping, and spending time with friends and family.