Get to know everyone who works at Knoxville Dental Center. Our team is made up of amazing individuals who want to make you feel your best.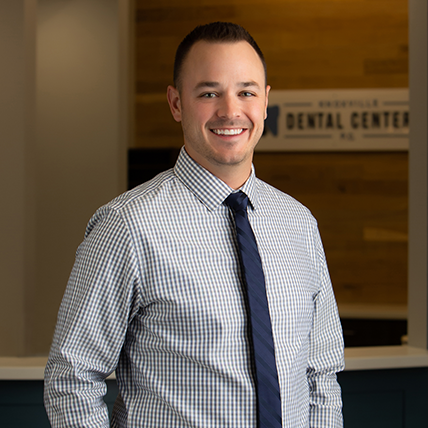 DR. ANDREW SECORY
Dr. Andrew Secory is from Clear Lake, IA. He received his Bachelor of Arts degree in Biology from Wartburg College. He then went on to the University of Iowa College of Dentistry and received his Doctor of Dental Surgery degree. Dr. Secory is a member of the American Dental Association, the Iowa Dental Association, and the Des Moines District Dental Society. As a dentist, Dr. Secory enjoys getting to know each and every one of his patients and strives to give his patients the best experience possible. He is active in the Knoxville community as a member of the Knoxville Chamber of Commerce and Celebrate Church. Outside of the office, Dr. Secory and his wife, Sarah, enjoy spending time with their two children (Ada and Benny) and dog (Hank), as well as other family and friends. They are passionate Iowa Hawkeye fans and love attending games in Iowa City. In his free time, Dr. Secory likes to be on the golf course or doing something outdoors.

LINDSEY
Lindsey is our front desk and office coordinator. She is here to help you with any questions or concerns you may have. She and her husband Kevin have two children, Kate and Dallas. They enjoy traveling, hiking, and anything that involves sun and water. Her favorite season is baseball season so she can cheer for her favorite team – Go Cards!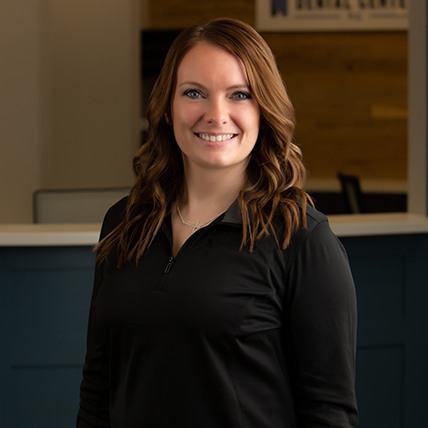 CHELSEA
Chelsea is a native to Knoxville and graduated from KHS in 2011. Working as a front desk and office coordinator, Chelsea welcomes and checks in patients, updates records, and answers the phones. She is happy to answer any questions you may have and find appointment times that work with your busy life. Outside of work, she is passionate about running, kayaking, sprint car racing, and cheering on the Iowa Hawkeyes! Chelsea also enjoys spending time chasing after her two daughters, Payton and Brynlee.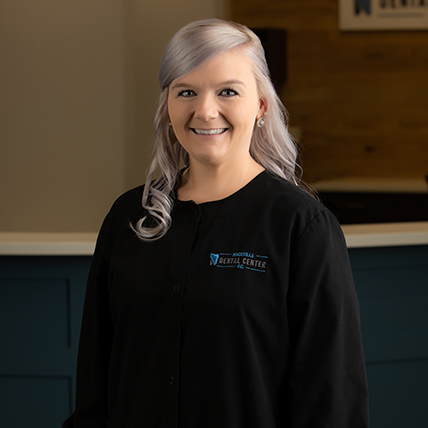 CASSIE
Cassie received her Dental Hygiene degree from DMACC and has been part of our team since 2013. She lives in Pella with her husband, Ben, and sons, Oliver and Elijah. In her free time, she enjoys baking, boating, camping, and spending time with friends and family. Her favorite part of dental hygiene is helping each patient to feel confident about their smile.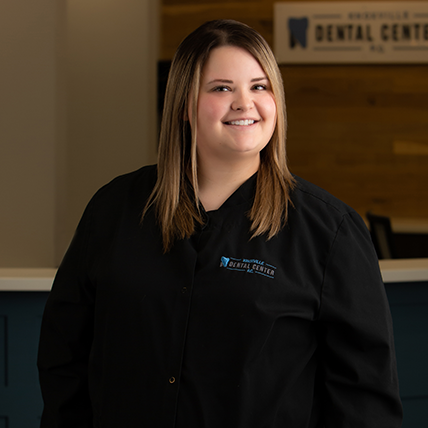 REBECCA
Rebecca is a native of Knoxville graduating in 2011. She then went on to Indian Hills Community College where she obtained her Dental Assistant certificate. Rebecca has a passion for advancing and expanding her knowledge in the dental field and has taken specialized training in Expanded Functions for Dental Assistants. Rebecca strives to create a relaxed and comfortable environment for each of her patients to ensure a positive dental experience. In her spare time, Rebecca enjoys spending time with her friends and family, traveling, rooting on the Iowa Hawkeyes and Cubs, and anything that involves the outdoors!

ANA
Ana grew up in Kansas City, MO and now lives in Des Moines. She spent 10 years as a dental assistant before graduation from the Des Moines Area Community College Dental Hygiene program in 2011. As a dental hygienist, she enjoys getting to know the patient and their families while making them feel comfortable and giving them the best care possible. Ana enjoys traveling and spending time with family and friends as well as her dog (Willo) and cat (Aspen).

BARBARA
Barbara graduated from the Dental Assisting Program at DMACC in 1996. With over 23 years of assisting experience, she has enhanced the team with her Expanded Functions Qualifications. Barbara strives for a positive patient experience in patients of all ages. In her time away from the dental chair, Barbara enjoys running, biking, and spending time with her husband Jim, and their three children, Haley, Jordan, and Carter.

MARCI
Marci graduated from the Dental Hygiene program at DMACC in 2002. She enjoys getting to know her patients and helping them figure out the best hygiene practices for their busy lifestyle. Marci lives in Chariton with her husband Scott, son Griffin, and two dogs Shilo and Remi. In her spare time, she enjoys traveling, watching the Hawkeyes, and spending time with friends and family.